Back
Innovation
FIFA World Cup 2018: 5 emerging tech trends that changed the game
Was Artificial Intelligence able to predict the 2018 FIFA World Cup? How was Augmented Reality used around the globe to bring the game close to fans?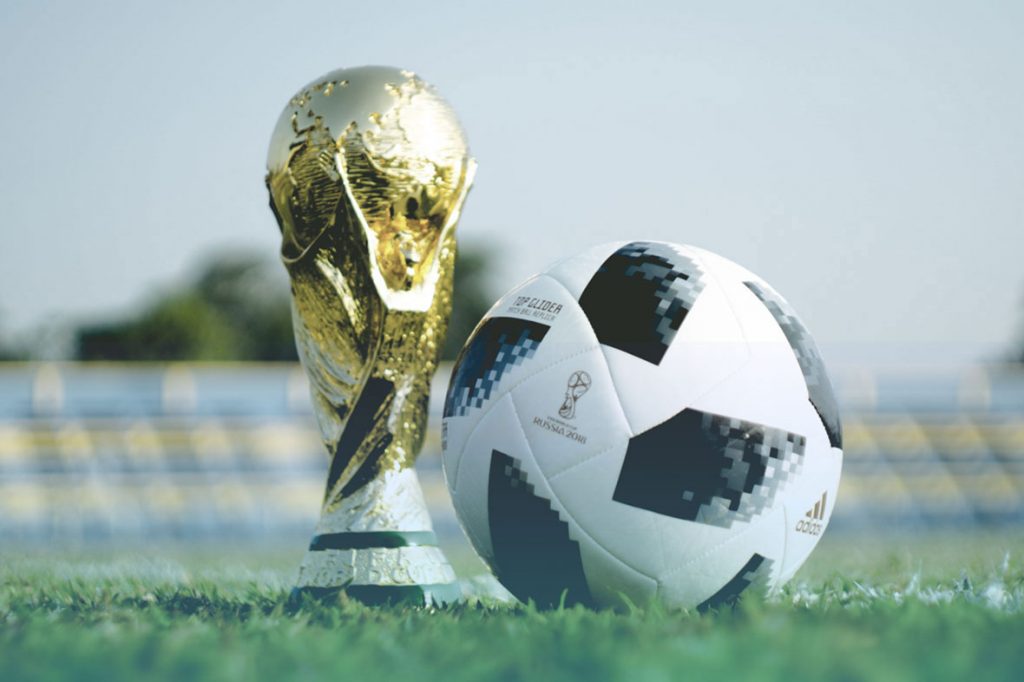 Whether you call it football or soccer, the FIFA World Cup unites billions of fans around the globe, as proven by the 3.4 billion people, almost half the total world population, who just watched the 2018 FIFA World Cup this year, according to research company GlobalWebIndex. As budgets are large and stakes are high, one of the opportunities of these large-scale events lies in the mass-introduction of groundbreaking technological innovation. Or as Forbes puts it, "it's not surprising at all that (soccer) isn't immune to the tech sector's favourite buzzword – "Digital Transformation."And this year, the 5 biggest innovative trends of Digital Transformation at the 2018 FIFA World Cup were nearly as astonishing as the game itself.
1. Was Artificial Intelligence (AI) – or anyone else – able to predict the FIFA World Cup winner?
The months leading up to the FIFA World Cup, the usual debate about the most potential winner divides experts and fanatics alike – and this time AI experts, scientists and researchers had their piece to say as well.
Although soccer is an almost unpredictable sport (even for algorithms), as numerous unpredictable factors can affect a team's' performance over the course of a month-long competition, Artificial Intelligence models promise to provide a data-driven scientific approach to predicting a probable outcome.
A group of academics and researchers from the Technische Universitat Dortmund, the Technical University of Munich in Germany, and the Ghent University in Belgium went down this route and predicted the FIFA World Cup winner by developing an Artificial Intelligence model based on no less than 100,000 simulations. Using a database of previous tournaments and three different AI models, Poisson regression, the ranking method (evaluating the current strength of each team), and the random forest approach, the researchers concluded that this years' champion would be Spain with a 17.8 percent chance of winning. Runner-up was Germany at 17.1 percent, Brazil third at 12.3 percent, France fourth at 11.2 percent, and Belgium fifth at 10.4 percent. Though the final winner was not correctly predicted, the applied AI models were successful in selecting France, Belgium, England, and Croatia among the semifinal candidates, assuming they would pass the previous rounds.
Meanwhile, sport science and analytics company Kitman Labs conducted a mathematical analysis of the FIFA World Cups in France 1998, Japan / South Korea 2002, Germany 2006, South Africa 2010, and Brazil 2014 based on performed goals to determine the teams to qualify for this years' quarterfinals. Considering every goal scored as well as goal differences, Kitman Labs determined that on average the teams that reached the quarterfinals had finished the group stage with a difference of +4 goals or more. This could mean that soccer is not so unpredictable after all and that by observing a teams' performance during the group phase one could predict the development of future instances and narrow down the finalists to compete for the trophy. Given the results of the 2018 FIFA World Cup group stage, this model correctly predicted 6 out of 8 quarter-finalists as Russia, Brazil, England, Uruguay, Belgium, and Croatia finished the group stage with a goal difference of +4 or more and advanced towards the Round of 16.
Surpassing the above, it was actually an AI simulation of the EA Sports video game FIFA 2018 that successfully predicted France as the world champion, through stats from the 406 million virtual games played by FIFA 18 owners, including one billion goals and 1.7 billion keeper saves.The overall precision of this simulation is noteworthy as it also foresaw the French striker Antoine Griezmann as the tournament's best player and predicted 13 of the 16 teams that advanced to the Round of 16, as well as several of the exact results, such as Uruguay vs Portugal (2-1) and France vs Uruguay (2-0) as well as the showdown between France vs Belgium (1:0) in one of the semifinals.
Fun fact: As in most tournaments, self-proclaimed animal psychics quickly gain popularity and actually are not always that far off. In South Africa's 2010 FIFA World Cup, Octopus Paul correctly predicted 8 match results and even foresaw Spain as champion. Russia's star of the moment was Achilles, a deaf cat, who managed to anticipate 4 match results of the first tournament.
2. AR/VR – closer to the game than ever
Besides FIFA offering the first-time ever Ultra HD 4K transmission of all 64 games featuring high-dynamic-range imaging (HDR) through 37 cameras as well as a live VR 360-degree video-on-demand (VOD) experience, multiple broadcasting companies and sponsors around the globe leveraged the FIFA World Cup to provide spectators with innovative AR/VR offerings. The highlights:
3. Blockchain to prevent illegal re-sales
Though each device successfully measured certain actions, neither devices gave us reliable enough results to classify all soccer related movements.
Besides official ticket provider HID Global equipping tickets with Radio Frequency Identification (RFID) to prevent fraud by detecting false or canceled tickets, Blockchain-based ticketing firm Aventus and BlocSide Sports conducted a trial of a Protocol source-code for the sale and future tracking of delivery of approximately 10,000 tickets for the United States and Europe, facilitating a supply chain that strengthens control and operations and prevents counterfeiting.
4. Russian Stadiums: High speed 5G internet & the one of the world's' largest outdoor screen
Although this FIFA World Cup arrived a little too early for high speed, high capacity and ultra-low latency connection 5G, a technology that is expected to be commercially available in late 2018 with frequent pilots and tests at events such as the 2018 Super Bowl, Russia offered a 5G trial of the largest deployment of Massive MIMO (an advanced mobile technology) to date through a virtual private network and internet access for 40 sites in 7 of 11 host cities within Russia. This parallel Internet Network made it possible for over 1 million spectators to enjoy ultra-high speed free Wi-Fi connection in the stadiums, fan zones and transportation hubs, as well as famous landmarks for the first time in the FIFA World Cup history. December Labs' Co-Founder Marcelo Cordini who attended several FIFA World Cup games in Russia was positively surprised as "… usually, in crowded events internet is problematic. We were streaming Instagram Live videos and WhatsApp video calls to share this unique experience with friends and family and it worked amazingly well."
Stadiums – an experience inside and outside its walls
Stadiums today are more than just a mere space for spectacles of any kind, they are a display of highly innovative visual experiences, and Russia sure did not disappoint.
While the walls of the Kazan Arena featured one of the largest outdoor screens in the world through 40,000 square feet of reflective LED panels, the roof of the legendary Luzhniki stadium, location of the inaugural and final matches, transformed into a giant media screen, displaying real-time information on goals, teams, line-ups. Last, but not least, the Zenit arena is house of two of the world's largest LED screens in a soccer stadium with an active LED area of over 3,400 square feet per HD resolution screen.
5. Innovations within the game
As soccer unites its fans, the infusion of groundbreaking technology divides them and is often ground for controversy – the recently introduced VAR being one of the most loved and hated – and tweeted about.
While in 2014 we saw the debut of goal line technology – the first-time referees had ever received any artificial help in making decisions – this year the following game-internal technological innovations made their debut:
Takeaways: A Cup for Fans
Besides the early exits of soccer powerhouses such as Germany, Spain and Brazil, the 2018 World Cup will be remembered for the impact of technology on this most massive event in the world.
In addition to the tech improvements implemented by FIFA (i.e. the VAR), from a fan and consumer point of view, we witnessed how the stadiums were transformed into smart facilities providing fans with a unique and personalized experience.
The commitment to fans and enhancing their experience was also observed in TV broadcasts, where networks resourcefully used Artificial Intelligence and augmented and virtual reality to offer new and innovative content and formats.
AI models, on the other hand, brought a breath of fresh air to prediction debate, as the AI in the FIFA 18 game even correctly predicted France as champion.
What comes next? Opportunities are endless, but Varuna De Silva, Lecturer in Artificial Intelligence at Loughborough University in London calls out for caution in favor of the spirit of the game: "As these technologies continue to develop it's important to keep in mind how they might affect those involved, especially when it comes to sports. There is a lot passion and emotion involved in sports, therefore the use of technology has to be scrutinized at every step of its adoption. Technology is a tool, but as always, the utilization of it should be given a quite a lot of thought, so that it does not affect the spirit of the game."
For better or worse, only four more years and we'll see which innovations and improvements in existing technology are waiting for us in Qatar in 2022, an innovation in its own right, as the first ever Middle-East nation to host the competition.
Happy to hear your thoughts at elisabeth@decemberlabs.com